Headache Rack – Custom Contractor Cab Rack
Custom Headache Rack or Cab Rack for Trucks
Bend & Central Oregon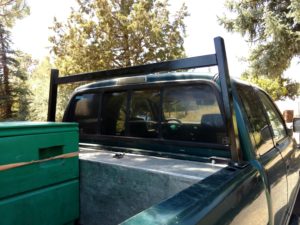 A cab rack protects your truck cab making loading lumber, ladders and toys easy & secure. Your ladder and extension cords are secure but easy to access during the week, and the canoe is easy to haul to the lake on the weekend. Racks can be added for toys.
Easy upgrade that looks great and is very useful. Can be made to nearly any specification, nearly any pick-up.
Call Z Metal Work today, most full-size cab racks can be custom made and installed for $350.00
*A custom hitch rack can be made and added to haul those long tools and toys level. This gives you all the use of a full lumber rack but the flexibility to remove it in a snap and have your truck bed open.